Carbon footprint of aquama® – Study carried out by Greenly
Cleaning products are used in permanence in the maintenance of our homes, offices, factories or buildings.
The Covid-19 pandemic has prompted us to revitalize our production of disinfectant in order to clean and disinfect in a way even more rigorous all surfaces and thus combat and limit the dispersal of virus. At the time of awareness of our carbon footprint and promise to reduction of all industry and economy, dictated by the COP26 consensus, let's stop a moment to analyze what are the environmental impacts of solutions commonly used disinfectants and how aquama® provides a solution necessary.
Greenly, a technology compagny that helps organizations lower their carbon emissions, compared the carbon footprint emitted by typical disinfectant solutions (with 70% ethanol) and the aquama® solution. By analyzing the complete life cycle of the product, (from the extraction of the raw material, passing through processing, distribution and use, then ending with the end of life / recycling) of conventional products, Greenly comes to the conclusion that the aquama® solution generated an imprint carbon reduced by 98.8% compared to conventional products.
aquama® is a disinfectant solution and a locally produced detergent. This solution is produced from three basic elements which are water, salt and electricity. Via a principle of electrolysis, we arrive at producing a 100% organic solution, biodegradable, and refill reusable bottles.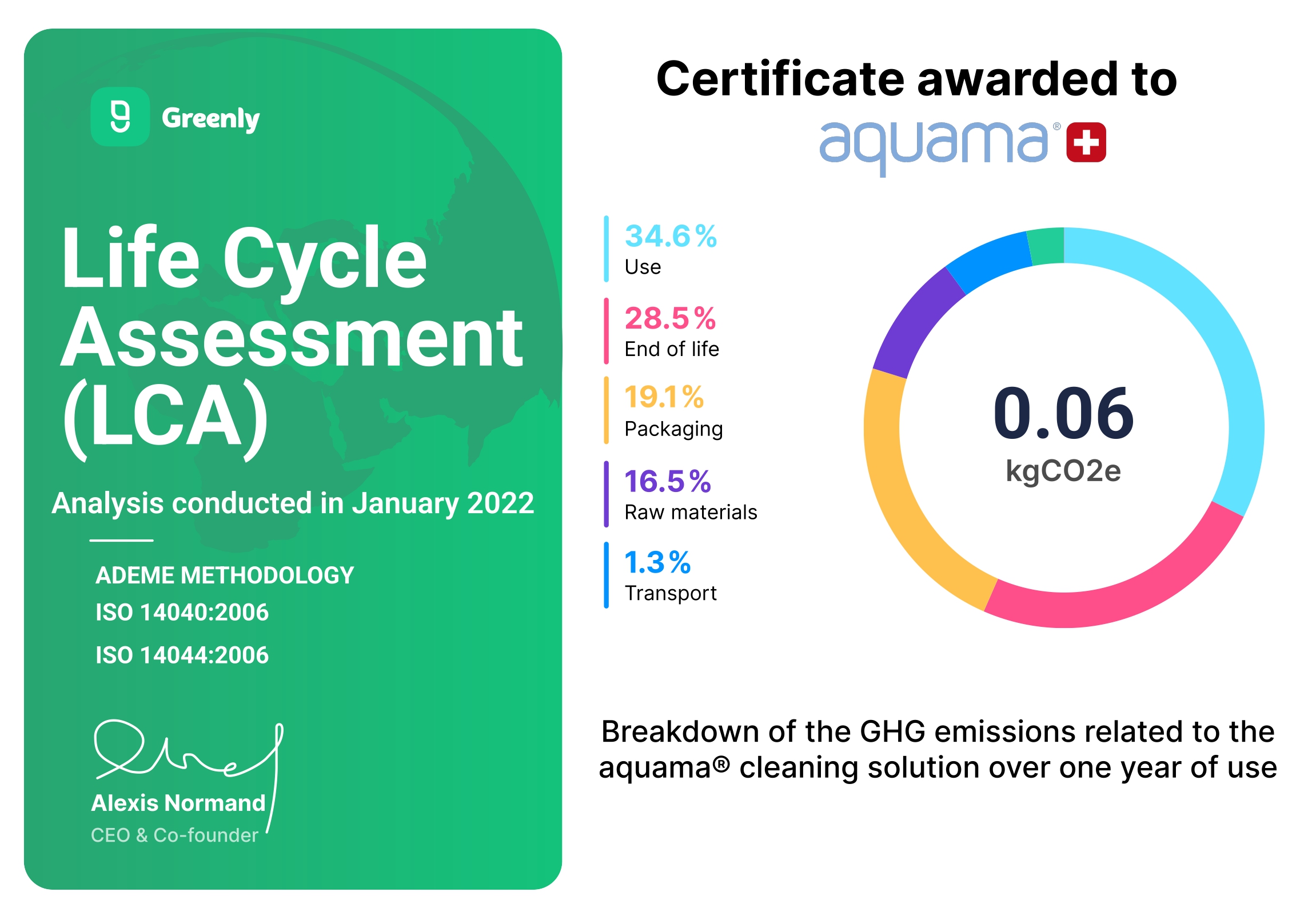 Distribution of emissions from the aquama® cleaning solution for one year of use
This solution allows us to reduce an annual and global carbon emission from 5,026 million kgCO2 to 60 million kgCO2, i.e. saving more than 4,966 million kgCO2, equivalent to 8.4 million London–New York flights per year!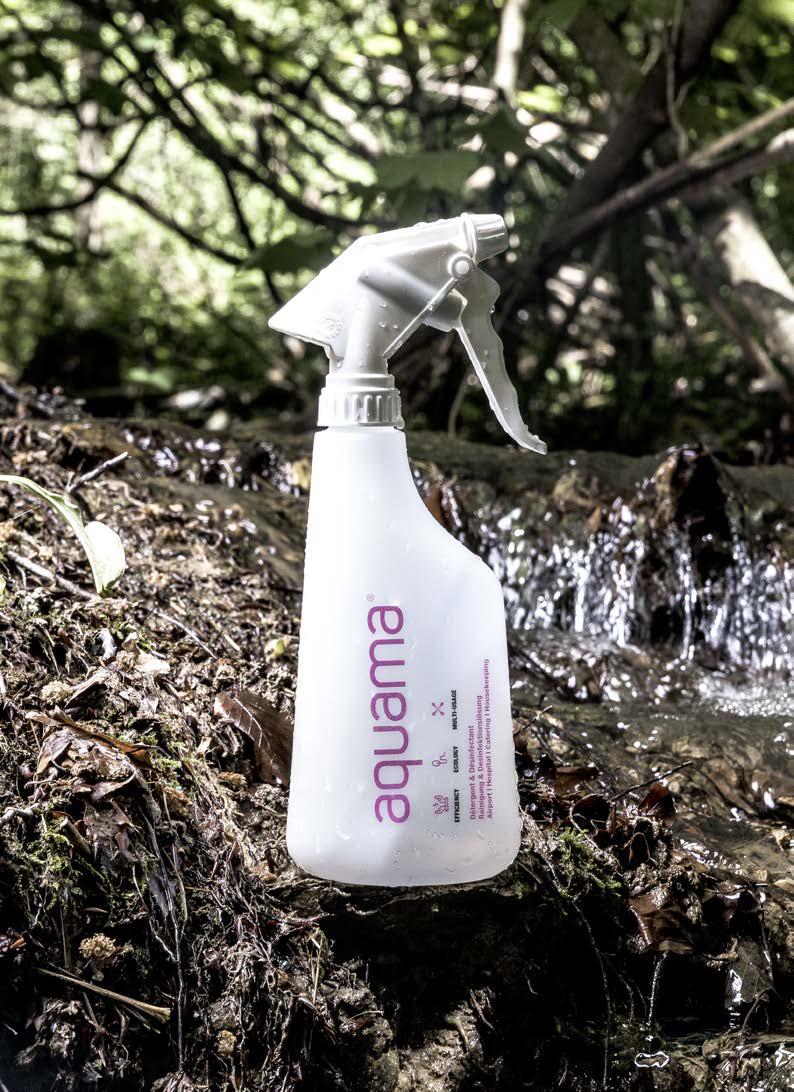 There is therefore no longer any doubt about the ecological advantage that aquama® has over all other chemical products, in particular thanks to its low carbon footprint. Beyond the ecological impacts, should be added the impacts of toxicity for humans, wildlife and biodiversity in general. The production of ethanol in massive quantities can pose immediate problems and even if the CO2 impact is clear, this is not to mention the threat that these products pose to our health, the environment and its fauna.
For example, the Chinese city of Wuhan, used more than 2,000 tons of disinfectant in a few months at the start of the pandemic. The results are clear, apart from the eradication of bacteria and viruses, chemical solutions only generate more danger and their impact should be considered alarming. Fortunately, there is a solution, aquama®.
aquama® with its solution based on electricity, salt and water, cleans and disinfects in complete safety. A present for the Future.
« In a changing world and to better face the challenges that await us, the aquama® team is proud to offer solutions that help reduce our carbon footprint and that of companies, but above all to offer safe solutions, effective and useful on a daily basis for the good of the population and our planet » , declares Willy Lionel Pomathios, founder and CEO of aquama®.